The suites are located in a tranquil residential building with a spacious courtyard. It's an oasis of calm in the centre of the bustling city.  This apartments are especially suitable for families and senior visitors.

The apartment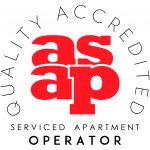 The City Park Apartment is elegant, stylish, unfussy and yet it's a very cosy home. The neutral colour palette of greys and browns with hints of creamy beige, warms the place up. The result is a contemporary home with a modern edge. The open plan living/dining area has a serene atmosphere with a lot of natural light coming in through the large windows.
This Studio apartment is fitted out with a double bed, two armchairs, a cute lamp over an antique corner table, a dining/working table with three chairs and for your entertainment there is a Flat Screen TV. There is a fully equipped kitchen with a combined microwave/oven and a most convenient dishwasher. The lovely bathroom is white tile fresh with a fantastic shower head.

The City Park I is on the third floor and it can host two persons. A night porter is available for security as well as to ensure a calm and peaceful environment city.
Services and facilities:
Free Wi-Fi

Bed linen and towels provided

Fair trade Max Havelaar towels

Bed linen is anti-allergic

No pets allowed, so suitable for guests with allergies
COCO-MAT
This apartment features COCO-MAT beds. Established in 1989, COCO-MAT today is a recognised leader for natural sleep products, bed linen, towels and furniture for homes and hotels.
Fair-trade Max Havelaar Cotton
The bath linen we use is made of Fair-trade cotton. Fair-trade cotton is cotton that is produced durable without any insecticides in developing countries. By paying an honest price to local farmers the environment of those who are directly involved is improved step by step. We always keep looking for new ways to contribute to a better environment. 
Important information:  This apartment is located in a quiet residential building. Therefore it is very suitable for families or elderly and not for groups. After 11 pm silence in the building is required.