This two bedroom apartment is furnished modern and smartly. Located close to the Amstel station it is just 10 minutes by tram to the Exhibition & Congress Centre RAI Amsterdam.
Living & Kitchen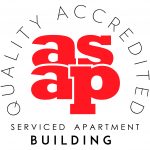 The living room features a sofa, coffee table, small workstation and a flat-screen TV. Due to the large windows ( opening out onto a french balcony)  and the white walls, the room looks very spacious.
The kitchen offers everything you might need for preparing your own meals; a microwave/oven, stove, toaster, coffee machine, kettle and fridge. A small dining table for two is situated in the kitchen as well.
Bedroom & Bathroom
The bedroom features a comfortable double bed and a second bedroom with 2 single beds, which will be welcoming you with soft blankets. The bathroom is fresh and tidy and features a sink, shower and toilet. For more comfort, a washer/dryer is placed in the apartment.
Location

Located at the Southern Amstel, the apartment building is very close to the Amstel Station for all train and metro connections and it is only a 10 minute ride with tram no. 4 to the RAI Exhibition and Congress Centre; an ideal accommodation and location for business travellers.